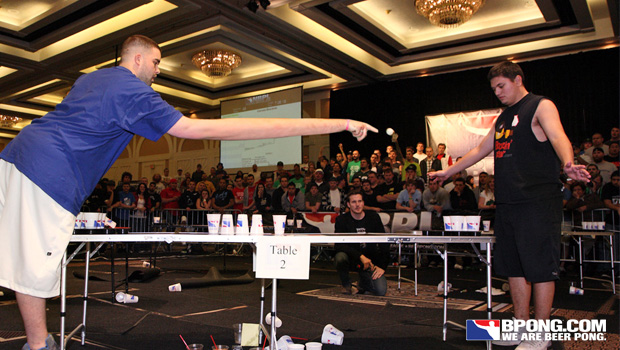 Is beer pong becoming too easy?
I know it's a silly question, coming from someone as terrible as me. But as the sport continues to evolve, at some point do we need to go back to the drawing board and re-examine things?
I'm not going to make this into an elbow rule debate. That topic alone is enough for its own blog post and then some. We can look at that at a later time.
For anyone who has played in a major tournament like the World Series of Beer Pong over the course of several years, it's pretty clear how much the average player has improved, and how much the better even the elite players have become. We've reached the point where you go into a game against a Kessler or a Ross Hampton expecting them to shoot 100%. And I'm not so sure that's a good thing.
I've been playing using WSOBP rules for the greater part of the last decade. In Maryland, before adapting to the current WSOBP rules, we used to play unlimited bring-backs and each player shoot-until-you-miss rebuttal shots. Even then, a few of the better players were already taking the "next step." It wasn't uncommon starting a game down 6 cups before you even shot against a great team.
If we want to take beer pong seriously, as a sport, then it is only fair to compare beer pong to other sports. And you'd be hard-pressed to find another sport that demands near-perfection to win games.
In baseball, you are considered an above-average to great hitter if you hit above .300. In 1941, Ted Williams posted a .406 batting average, considered by most to be the greatest statistical batting season of all time. Yet in that magical season, Williams got out nearly 60% of the time.
In football, the career leader in quarterback completion percentage is Chad Pennington with a 66% over the course of 10 seasons. Ignoring the fact that Pennington is a terrible QB (sorry Jets fans) even his record-breaking noodle arm threw incompletions almost 35% of the time.
Finally, in the NBA, Carmelo Anthony won the scoring title this year averaging 28.7 points per game, notching a .449 field goal percentage. The league leader in field goal percentage, center DeAndre Jordan, had a .643%.
Enough with the Moneyball stats, you say. What's the point? The point is that in any given major tournament, if you shoot about 60% you're not guaranteed to win, not even close to it. I'd say the top players average out closer to an 80%, give or take. That may be generous, but I think we can all agree that maybe beer pong has become a little too easy at its current state.
So what's the answer? Elbow rule? Longer tables? No bring-backs? No rebuttals? Or are things fine the way they are? Every major sport has gone through numerous rule changes to balance things out.
How about beer pong?