Ah, beer pong. The ubiquitous party game turned competitive sport. Complete with big-time payouts to its biggest stars! (Like $50,000 big!) Just like poker, baseball, or any other American institution, it has its own national event, The World Series of Beer Pong (The WSOBP).  Whether you've seen it on The Jay Leno Show, ESPN or read about it in Maxim, The WSOBP is getting bigger, badder, and more exciting each year. This year, The World Series of Beer Pong has ditched the New Year's party for some fun in the sun and will be held in the summer (July 6th-10th, 2016) for the first time ever!  With July fast approaching, we're counting down the top ten reasons to head to Vegas this July and get your balls wet at this can't miss event!
 10. Vegas
Sin City needs no introduction.  With its limitless menu of strippers, call girls, all-night clubs, celebrity sightings, and general lack of standards; Vegas is not just a city, it's an alternate reality in which the laws of the everyday world seemingly do not apply.  It's the reason why it's completely plausible that "The Hangover" was based on a true story. It couldn't be truer that you've never really partied until you've partied in Vegas – and things really heat up in the Summer time. What better way to party in Vegas than to party in Vegas at The World Series of Beer Pong!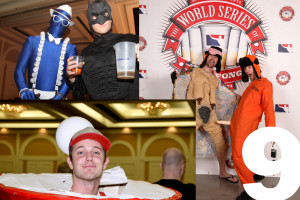 9. The Costumes
From barely-dressed women and cross-dressing men to bearded banditos and full-body-spandex, in ten years The WSOBP has seen its share of costumes (as well as improvisation and performance art).  Nothing says, "miss this shot" quite like something obscene lingering in your field of vision, and in the game of beer pong, this fact is well known, and indeed celebrated.  Each year, the bar is raised (lowered?), and the legend continues.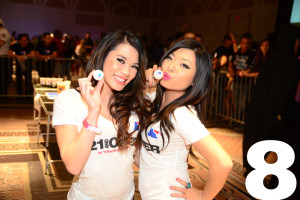 8. The Sponsors
Nothing says "take out your wallet" quite like a scantily-clad, cup-hungry damsel and the businesses that sponsor The WSOBP are well aware of that fact.  Suit 'em up & send 'em out!  Or don't suit em up, whatever works.  Each year, the sponsor babes crank it up a notch and give us some eye candy we'll never forget.  We love you, ladies. Don't dismiss all the other awesome sponsors that don't involve boobs and always make sure to take care of all the players! From free hangover pills and party supplies to innovative new games and products that just hit the market, The World Series of Beer Pong has it all!
7. The Side Events
Even if you get eliminated from the Main Event, it doesn't mean you have to pack your bags and go home. You can play in one of the many side events taking place alongside the Main Event and you'll be right back in the game. Don't have the cash to pony up for Main Event entry? No worries, there will be thousands in prize money up for grabs, and the damage to your wallet for registration is miniscule. Rumor has it that the Singles tournament is upping the stakes this year…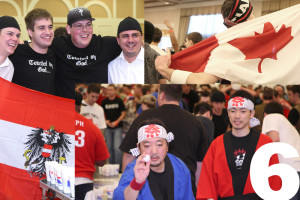 6. The Playing Field (A REAL World Series of Beer Pong!)
Ever seen Beerfest?  Yeah, it's kinda like that.  Oh, except it's in real life, so unless you fly intercontinental on a regular basis, you're probably never going to play a Japanese team, an Irish team, or an Austrian team. However, at The WSOBP it's par for the course. The World Series of Beer Pong is VERY LITERALLY A REAL WORLD SERIES! With tournaments like the European, Swiss, Australian and various other "Series of Beer Pong" tournaments sprouting up around the globe (that all have a Grand Prize of qualified entry into The WSOBP Main Event), there's no telling where your next opponents may hail from, but there's no doubt that the competition will be tough!
Even better than the number of people you'll meet from places you might not have even known existed, is the friendships & relationships that are formed and last a lifetime! There's no better feeling than spinning a globe and having a high likelihood that you'll have a friend that is more than willing to let you crash on their couch, no matter where your finger lands. As the years pass, you'll find yourself giddy for The WSOBP just to see all your friends from distant places! Some of our veteran players may argue that this could easily be number 1 on this list!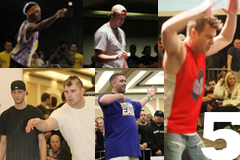 5. The Pros
Like the best of the best in any sport, many of beer pong's greats need no introduction and are known by only one moniker – Ron, Pop, Kessler, Marx…
A wise man once said truth is stranger than fiction, and this has never been truer than in the world of professional beer pong.  Case in point: Ron Hamilton.  A combination of Barry Bonds, Dennis Rodman, and a charging rhinoceros all rolled into one, Ron's nerve-rattling antics, insane hair, and legendary appetite for Cinnamon Life cereal are second only to his unquenchable thirst for cups and unsettling tendency to spam every last person on his Facebook friend list (we're serious—don't friend him).  But with Smashing Time having unprecedented back-to-back WSOBP victories, he and his partner Mike Popielarski stand-alone in the world of beer pong.
However, the line of true characters you'll see at The World Series of Beer Pong from the planets most accomplished pongers is not one lacking in numbers. Unlike all other professional sports; player trash talking and personalities are not only celebrated within our sport but are strategic components of the game's top players to secure victories over other elite opponents. If you watch and listen closely, you'll develop an appreciation for each stars unique craft.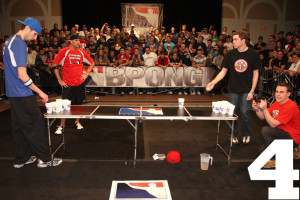 4. The Experience
An estimated five hundred teams will be at The WSOBP this year.  We'll say that again: 500 TEAMS!  They will come from almost every US State, and many will fly in from other continents.  You may be the best at your local bar or fraternity, but until you've been to Vegas, you're just playing in the sandlot.  The WSOBP is the only place to come see where you really stand in the land of competitive beer pong. The way you look at the game will never be the same!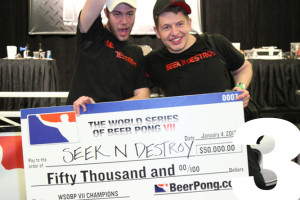 3. The Money
There's not much to sell here. We pay you money to be good at beer pong. Not just a couple bucks either. The 1st place prize at The World Series of Beer Pong Main Event is $50,000!! We've paid out over $500,000 to our Main Event players, even more if you count our side events and millions if you count all our affiliate & satellite tournaments throughout the years! So next time someone gives you grief for playing and asks you where beer pong is going to get you in life, make sure you check them hard on the spot!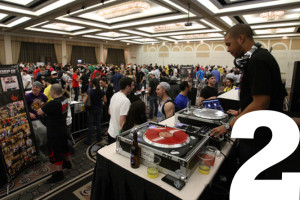 2. The Environment
Let's face it, you likely won't get a chance to hit a home run at Wrigley Field or make a game winning basket at Madison Square Garden, but you stand a good chance of sinking a clutch shot at The World Series of Beer Pong! Feeling the adrenaline rush of a professional athlete during performance is so much greater than any buzz a beer could possibly give you. It's impossible to ignore the endorphins rushing through your veins from the second you step foot in the ballroom. You feel the bass from the music flutter your heartbeat. You hear the chatter of a huge crowd. You see thousands of people and hundreds of tables set up. There is anxiousness, tension and excitement lingering in the air. YOU are in the SAME FIELD as the BEST players in the WORLD and the fact of the matter is that everyone starts square. Even. 0-0. Equal opportunity. YOU are just 12 prelim games away from being considered one of those players. YOU are 3 days away from walking away with $50,000 and a legitimate World Championship to call your own!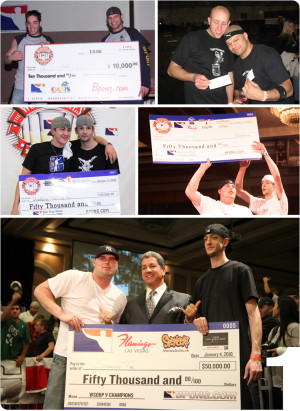 1. Potential Immortality
"If you win The World Series of Beer Pong, they can never take that away from you."

We're not sure exactly what shadowy, underground cabal The Iceman was referring to when he spoke of "they," but you get the idea. After three full days of game play and 499+ defeated teams, there can be only one champion. These men's names and stories will be written on the walls of history that will eventually become tailed legends. Through skill, perseverance, and dedication, the team that is destined to take it all will forever be immortalized as a true World Champion. Will you be the next to make history??