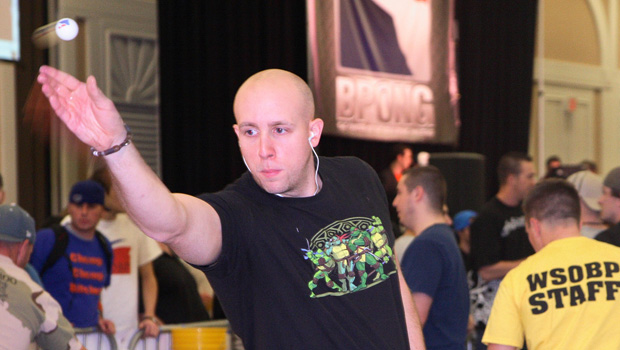 It's Day Three of the World Series of Beer Pong. The field is narrowing down, every shot is becoming more and more important. The DJ is spinning onstage and the music is shaking the entire ballroom. You're watching the teams left in it play under the lights in the center of the room. Some of the guys are feeding off the energy, talking shit to the crowd and the other team. But there's always that one guy, seemingly as calm as can be, standing at the table with his ear buds in.
I still don't understand it, to be honest. For me, the greatest part about making Day 3 is feeding off the energy of the players or crowd as the field dwindles. Trash talk doesn't really affect me, so it's not like I need something to tune it out. I tend to like the music being played, and even if I don't, anything sounds great with the alcohol in my system and the adrenaline flowing. I've never even tried to shoot with headphones on. I would guess that the wires would bother me too much.
So for the guys who are listening to the ear buds, I'm just curious why? Does it help your focus? Does it drown out the trash talk from your opponent or crowd? Is the music calming your nerves or getting you more amped up? Do you feel like you're missing out on anything?
I've always wondered what you guys are listening to. Hip-hop? Rock? Country? At a World Series of Beer Pong a few years ago, I was curious what someone was listening to so I grabbed his iPod. I looked at the screen and Tool's "Hooker With A Penis" was playing. Yes, apparently that is a real song and apparently that is what this particular player was listening to. This player may have also dressed up for the WSOBP as a female on several occasions. Not naming names. I'm sure there's a joke in there somewhere.
So what makes a great beer pong playlist? At most of our major events, hip-hop tends to be the music of choice. Every now and again something like Carly Rae Jebsen's undeniable "Call Me Maybe" will sweep in and captivate the beer pong community. For me, whenever Bubba Sparxx's "Deliverance" comes on, I feel like I can't miss. I've thought of playing with an iPod just so I can listen to that song on repeat all day.
What are some of your favorite songs to shoot to? Let's build the greatest beer pong playlist ever.