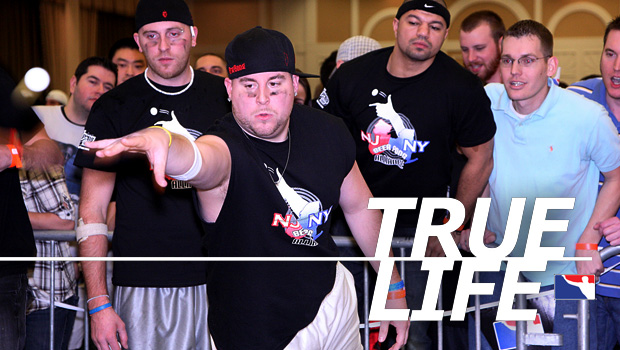 Do you try and keep your "real life" separate from your "beer pong" life?
A lot of us try to separate our "beer pong lives" with our real lives. I've been asked by people not to use their real names in blogs and articles, because they didn't want their employers or clients to Google their names and find some less than desirable videos or things written about them. I totally understand that. Some of the things done or said in the heat of the moment on the beer pong table are best not publicized.
For the most part, I've always been pretty open about my beer pong hobby. I'm not ashamed of it. I think it's funny and interesting. The first time I told co-workers years ago that I had won a beer pong tournament I thought they would laugh or judge me. Instead, they seemed fascinated and wanted to come out and watch or play in the next one.
Or, if they kind of laughed at me, they saw the money I made in cash games the night before and suddenly my "hobby" became more credible. Back when I was a better player and played more, beer pong was more lucrative for me. Now, I settle for bar tabs for winning tournaments, but there are many of you that make a decent living solely off beer pong.
One of my favorite parts of being a part of the beer pong community is watching the expressions of casual spectators when they see it in person for the first time. When we're in Las Vegas for the World Series of Beer Pong, people can spot us from a mile away. They assume we are just there to get drunk and rowdy. Have you ever been in the elevator on your way to the ballroom, and some old lady asks you about the beer pong tournament and the prize money? They kind of laugh at you until you tell them you're playing for $50,000.
I love the reactions of people who walk into whichever bar or restaurant we're holding our local tournaments at. At first, they wonder what the hell they got themselves into. But then they stick around after they eat or drink and seem genuinely captivated by what they are watching.
Once, during a league night, my partner and I were playing during a league night and saw a group of older women watching our game. We could tell they were interested, and after a few minutes they came up to us with a question about our game.
She asked us, "Do you have to eat the hard-boiled egg after you make it in the cup?"
This woman thought we were throwing hard-boiled eggs into cups of beer. I can't make this stuff up.
Have you had any crazy reactions from people about your beer pong hobby?