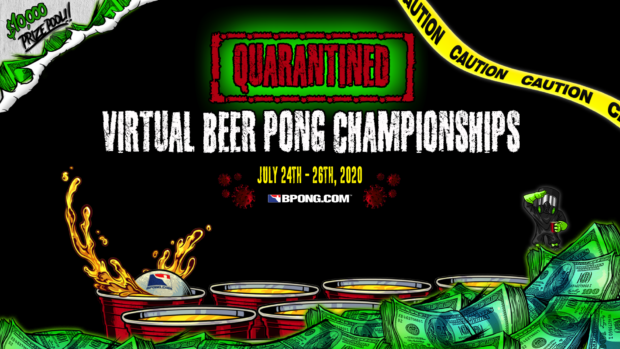 If you plan on playing in BPONG's Virtual Beer Pong Championships, below is what you need to know for the platform, setup and requirements. Please read thoroughly and be ready to play!
Some of you may be more familiar with playing a game of beer pong online than others. However, we'll be switching things up just a bit from what you may be use to!
Please make sure to familiarize yourself with what you'll need to do to participate!
–
Platform: Facebook Rooms
Initially, online play was primarily ran through the Skype platform but has more recently transitioned to the Zoom platform. Though both are viable options, there are some things that we can't accomplish using Zoom or Skype – not being able to record each game being the most notable.
Utilizing Facebook's new "Room" feature we will be able to not only record each game but live stream every game for all to view!
Here's how it will work:
1) During each round of the Virtual Beer Pong Championships all players will enter into a group chat via Facebook Messenger with a tournament organizer and the other players in their pod.
2) A random player, appointed by the organizer in each group chat, will create a "Room" in the (Beer) Pong Players of the World group. 
3) They will then invite and/or all of the other players in the pod to join the room to play all pod games. (Anyone can join unless settings are changed to restrict people from joining.)
Players in each pod may decide whether they want to limit their room to just their pod players or allow others to actually join the room.
Having each game recorded will enable our ability to monitor everyone more closely. If something is called into question, we'll be able to go back and look at what caused the dispute to better assess the situation.
–
Setup:
All players must have their own connection. If you are in a location where multiple players are participating, each player will need to have a device and equipment of their own.
All players must find a recording angle that includes their entire playing area. The entire playing area can be defined as your full table and the immediate area around it. (1 foot to all sides)
The goal is to provide a view for your teammates and opponents that does not obstruct the flight of the ball and eliminates blind spots where someone could be dropping the balls in from above, out of view from the camera.
The angle should also provide a view slightly above the rim of the cups. (Your camera should not be cup height or below.) Your teammates and opponents should be able to see the ball go in the cup.
After each made shot, you must pull your own cup prior to the next shot being taken. You must show the ball in the cup, upon pulling the cup, prior to reaching into the cup to remove the ball.
Prior to playing in this tournament, please find an angle that will pass a camera setup inspection if someone requests one.
If you have questions about whether your camera setup is acceptable, please feel free to reach out to [email protected] to have it verified at least 2 days prior to the tournament.
–
Requirements:
All players must have an Official BPONG table or a generic table of equal dimensions.
All players must have Official BPONG cups. The older clear BPONG cups will not be accepted. White BPONG cups must be used.
All players must have Official BPONG racks.
If you do not have the needed equipment to participate in this tournament, you may order everything from BPONG.COM/SHOP to get yourself ready! Please order any needed items as soon as possible to ensure it arrives in time.
–
If you have any questions about these set up requirements, please feel free to reach out to [email protected]!
– BPONG