The clock is ticking quicker as September 11th approaches and the most anticipated tournament in the Midwest kicks-off at The Chicago House of Music & Entertainment on Friday night!
(www.homebarchicago.com)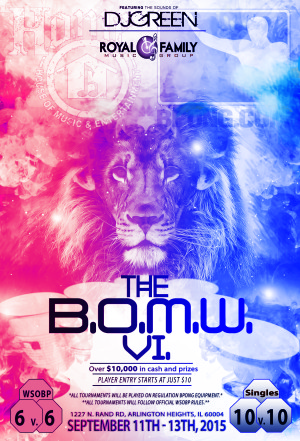 _
Friday night's tournament will showcase a change from the typical Best of the Midwest lineup. A 6v6 formatted tournament will replace the familiar Friday night (2v2) $2.5K tournament. A variation in how squads are generally formed for larger teams will put a bit of a twist into game play.
A number of Captains have been (primarily) appointed from the top 4 placing teams in last year's BOMW V Main Event. These Captains will participate in the first-ever BOMW player draft. Each team generated through the draft will need to feature players from 3 different states. (The draft will take place on Sunday, September 6th, 2015.)
While the 10v10 Main Event features restrictions limiting player team designation based on geographic affiliations, the 6v6 draft tournament aims to develop player relationships outside of a player's primary location. By having numerous players from various states on one team it allows players to build potential partner relationships with players outside of their area by familiarizing themselves with one another; not only on a personal level but by also experiencing game play on a high level together.
The draft leads players who are arguably the best players at this event to become students of the game. If they want to win the tournament, they'll need to draft the best team possible. In order to do that, they'll need to be familiar with every player's game in the draft pool.
Friday night's entertainment will also feature live sounds from Las Vegas DJ Joe Green, who is also The Official World Series of Beer Pong DJ. Tommie King, of RFMG ENT., will also be featured live later in the evening.
_
Saturday's festivities will start at 1:00pm with a singles tournament. It's you vs. the world and it's only ten bucks to play! Want to play just to have some fun and not destroy your wallet?  This might be the tournament you're looking for.
After the singles tournament wraps up, the show we all have been waiting for will begin.
Roughly around 7:00pm, The Best of the Midwest (10v10) Main Event will commence. Saturday's preliminary play will determine each team's fate within the following day's double-elimination playoff bracket.
_
Sunday, September 13th, will be the day a new or reigning champion will be crowned as the victors of The Best of the Midwest VI.
The (10v10) Main Event playoff bracket will begin at 1:00pm. Players and teams from across the country will battle it out on 5 tables at a time with 5 (2v2) games taking place simultaneously on those tables, advancing the squad who takes at least 3 out of those 5 games.
The defending champion Illinois Insanity squad, deep in experience, will bring back almost every player from last year's championship team. The Insanity will try to get half way to STLs Finest record 4-straight Best of the Midwest championships, with their second straight title.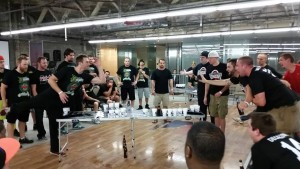 Players hailing from Michigan will be coming in strong numbers, (thanks to our associate organizations BPA and MAC Pong), as they will enter at least 3-teams into this year's main event. One such team, Michigan Mayhem, who will return the majority of their team from last year's 2nd place roster, is determined to better their runner-up efforts from last year's BOMW V Main Event.
The winner of this year's Best of the Midwest VI Main Event will not only receive a huge chunk of the thousands in cash that will be given away over the weekend, but they will also be the first team in BOMW history to be presented with the newly appointed Best of the Midwest grand prize, "The Gilkison Cup."
The symbolism the cup holds ensures the legacy of the late, great beer pong player, Zach Gilkison, is carried on. The perpetual plates will etch each year's champion into BOMW history and the cup itself will forever represent a piece of what Zach really meant to the beer pong community.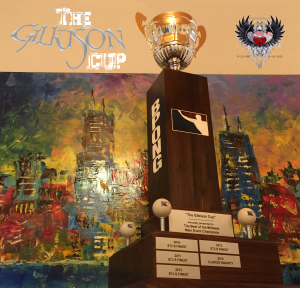 After the fire settles and a Main Event champion is crowned, the attention shifts to The World Series of Beer Pong XI (WSOBP XI), as BOMW VI will conclude with a World Series of Beer Pong XI Satellite Tournament.
This event will qualify two friends to participate in The WSOBP XI at the Westgate Las Vegas Resort & Casino from July 6th – 10th, 2016. Their entry into the WSOBP XI tournament will also include a 4-night stay at the host venue!
While registration is closed for BOMW VI's Main Event, 6v6 and Singles tournaments, you can still register to participate in The WSOBP XI Satellite Tournament until September 11th!
Register now: (https://www.eventbrite.com/e/the-best-of-the-midwest-vi-bomw-vi-registration-9875068596)

Can't make it to The Best of the Midwest this year and want to keep up to speed on how things are shaping up? Add us on Snapchat: "OfficialBPONG" and catch all the action live!
For more information on The World Series of Beer Pong XI, head over to BPONG.COM. Not finding what you are looking for? Drop us a line at [email protected]!